One way to look at communication is through the prism of fidelity. In this simple image, I have listed out the most common modes of communication in our present society. It is ordered based on highest to lowest. Fidelity is defined as how messages are sent and received. With more methods, more information is transmitted from sender to receiver—and perhaps reciprocating through a feedback loop.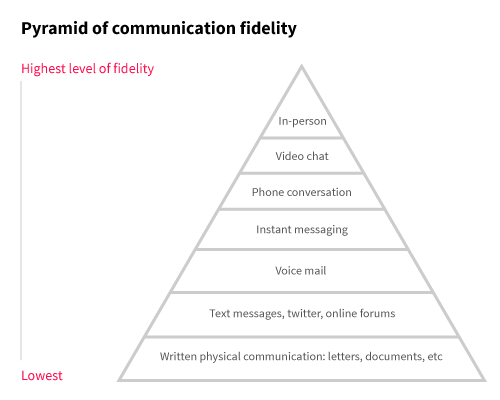 A simple example. I'm talking to my friend and say, "Sounds great."
Over Twitter, that could be taken as literal.
But in person, there are many extra methods beyond just the words being spoken. Also present we find vocal nuance (I had a short tone, downward inflection, spoke very fast, and was quiet), mannerisms (I was fidgeting and tapping my foot), eye contact (my eyes were looking away, almost like I was distracted), facial recognition (I winced).
The two different modes tell separate stories. Via chat, I sound excited. In person, it's obvious I'm annoyed.
Some patterns emerge. First, mannerisms are more important than voice, which is more important than text (or words). Second, Synchronous is more important than asynchronous. With that in mind, the chart could be redrawn to look like this.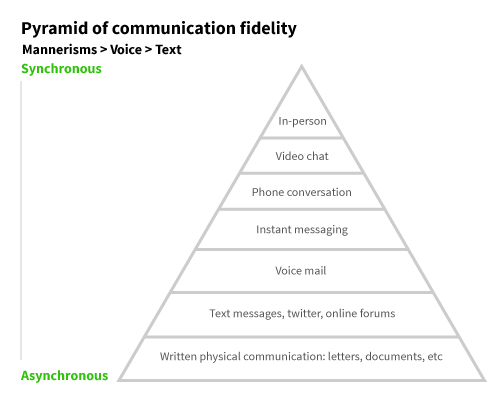 Voicemail is an interesting layer. It clearly has more fidelity than similar asynchronous textual communication. But it suffers in utility by comparison. It's only available, generally speaking, on your individual (smart)phone handset. It doesn't play well with other applications we use day-to-day, like email. It's basically locked in a jail.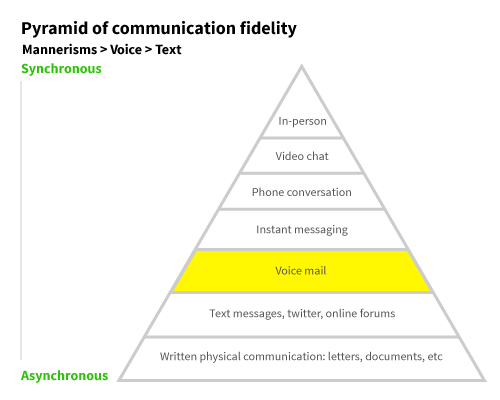 But there are areas of business that enage with voice every day. Voicemail is ineffective, but they must use voice, so they are forced to use synchronous phone calls. Unfortunately, they lose the common productivity gains provided in the text world. They key is, though, they don't actually need a live phone call. They just need the fidelity of the voice.
So the Voicemail layer is often overlooked and criminally underused.
Thinking about Jobs To Be Done while innovating this layer of communication theory has been the goal of HarQen. We first started with Voice Advantage, an automated interview/screening tool for busy HR and Staffing professionals. We found that staffing firms would receive thousands of resumes and applications for a single job opening in one week. Often a single recruiter would be in charge! The process was normally:
Gather all resumes and applicants into an Applicant Tracking System
Put resumes into three piles: A, B, and C.
A's would be called on ("smile and dial!")
C's were discarded
B's were a mystical "maybe" pile were there might be some gems, but who knows
The recruiter would waste her entire week calling pile A, and eventually make an offer to a candidate and move on
Many innovations are making this process easier for all. The way job boards funnel into the ATSes is a big example. Our novel idea, though, was targetted on the Smile And Dial. Just think of these problems:
The recruiter is saying the same thing almost every phone call; a massive waste of time.
Sometimes calls would take 30 minutes, but the recruiter might know 5 minutes in that this candidate isn't a fit. This is called a "courtesy interview".
Scheduling hassles. Lots and lots of scheduling hassles. Even more wasted time.
So the thought became What if we could convert the Smile And Dial procedure into an asynchronous format? The recruiter would only need to record her questions once, and then could listen to each candidate's answers.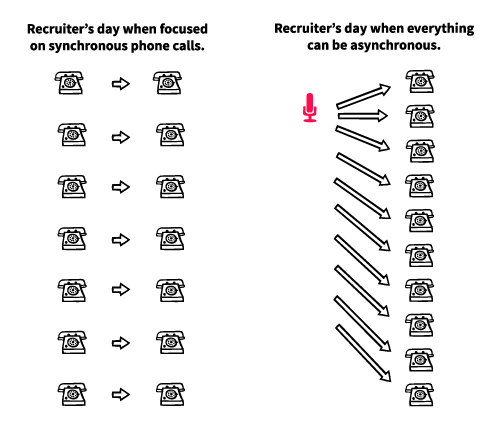 This break through has been a success. It has been so well received that it created an industry: virtual interviewing. Many companies are doing great things in this space now, although most are focusing on video interviews. We consciously stayed with voice. We felt more candidates had access to a phone, and the workflow would be considerably easier for recruiters and candidates alike. Going back to our pyramid, our hypothesis was that bumping up from the "phone call" layer to the "video chat" layer wasn't as much of a requirement for recruiters as they thought. And the technical and user experience gains with keeping it simple with the phone made the most sense. It was the best intersection of value creation.
This mode of thinking is very exciting to me. Continuing to discover communication problems and solving them by rethinking what's possible layer-by-layer in the pyramid is a wonderful day job.