1. Ducktails – The Flower Lane
One macro element of music that has fascinated me recently is regional influence. Certain sounds tend to come out of certain geographies. And because music communities are generally smallish wherever you find them, one group of musicians tends to know another. As with any creative endeavor, the artist is generally shaped by his or her immediate influences, like places and things. But the main noun—people—has the greatest influence. That is why lately I have explored the who-knows-who social graph of musicians as a way to discover new music.
It is essentially an extension of the label approach. If you like one artist, exploring other musicians on the same label is a quicker way to find other music you might enjoy because labels usually employ the same stylistic qualities. I find the people connection to be more successful because the relationships are more symmetric and influential.
So here we arrive to Ducktails, the authors of my favorite album of 2013. Ducktails is the solo project of Matt Mondanile, a Brooklyn artist originally from New Jersey. Matt is also a member of Real Estate, who took my top stop in 2011's rankings. The Real Estate crew went to the same New Jersey high school as Titus Andronicus and now-Madison-resident Julian Lynch. Getting hooked on Real Estate lead to the discovery of all these guys, including individual side projects.
This has been a format I've started to use elsewhere, like the British DJ scene. Or the branches coming from the Deerhunter tree. It has been the most reliable way for me to discover new music that I enjoy.
As for the album itself, it is incredible. Matt blends the jazzy electric guitar with the breezy sea-side vibes Real Estate is known for, yet doesn't forget Ducktails' roots of experimentation. His music is silly yet expertly refined—a dichotomy that makes me genuinely happy when I listen.
2. The Field – Cupid's Head
Make no mistake—Axel Wilner's The Field project is something special. Axel has the unique ability to invent a new musical category, then continue to innovate within it. I believe this is his best album to date, as each subsequent piece of work by him has gotten more refined and better sounding. He's the physical manifestation of iterative improvement.
I went down to Chicago to see Axel at Empty Bottle on a Tuesday night mid-summer. He came on stage at 12:30am. It was a late night; I was tired and hated myself the next day. But it is nights like this were crazy stories happen. He happened to be hanging around by the bar during an opening act, so I snuck up to him and said hello then thanked him for his awesome music. It was worth it. Fun times.
Evidence of the encounter submitted as a grainy iPhone photo taken in low light a few feet away. Seems fitting for his style, no?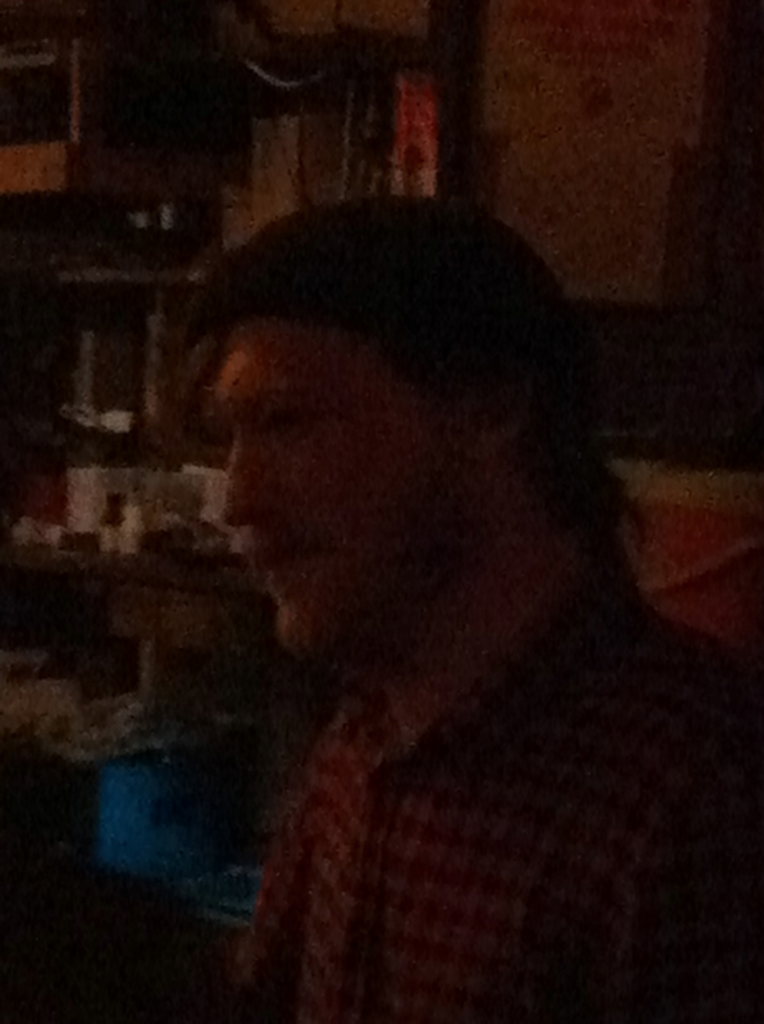 Anyways. The Field is unique music that is special. We're all so lucky to hear it. No other sound has the ability to make you feel lost yet secure. Nothing will compare to the feeling you get from it.
3. Washed Out – Paracosm
I recently watched a short documentary from the Creator's Project series featuring Ernest Greene, the genius behind Washed Out. In it, he ventures all the way to Calgary (Ernest Goes To Canada? Anyone? Damn.) to find a literal museum of old instruments, which, to his delight, can be manipulated to produce similar sounds to our current Garage Band digital norm. Elsewhere we find out that he used a live band and several of these instruments to record Paracosm, thus achieving his patented chillwave vibe, yet having a physical connection to the music. I'm a fan.
In some ways this has been the reason I've embraced collecting vinyl records as a hobby. I could care less about popular movements or trendy brand association–I like vinyl records because as a technologist I constantly have the feeling of emptiness with my every day interactions with the world. There is little to connect with in the physical world. Sometimes I wish I was a carpenter or architect so I'm building a real skyscraper, not a metaphorical one. That I can connect with my music physically rather than digitally makes me appreciate the music that much more. This relationship only added to the interest in Washed Out's 3rd, and best, album.
4. Wild Nothing – Empty Estate EP
With the exception of The Flower Lane, Wild Nothing's 2013 EP release was the album I returned to the most in 2013. I played the heck out of it. It's the first time I felt a band had nailed what seems to be the trend du jour: capturing that 80s vibe while still feeling like 201X. Seriously good 80s music found here. If that's a style you periodically enjoy, don't miss this EP.
5. Caveman – Caveman
I remember discovering Caveman via Rdio's recommendation of artists similar to Grizzly Bear. While I don't think they are as similar as Rdio's algorithms would make you think, they do achieve similar levels of chemistry and harmony that Grizzly Bear are known for. (I would argue that Caveman is more traditional folk sounding with less vocals while Grizzly Bear is more experimental with more focus on multiple vocal harmony.) Caveman's second album, self-titled Caveman, is a promise of what is to come. They are one to watch.
6. Mutual Benefit – Love's Crushing Diamond
Did someone say folk? I'm not all electronic, mind you. Mutual Benefit is the classiest new folk sound you'll hear this side of Mark Kozelek (who I also adore). Echoing the sentiment of one of my best friend's review, a song like "Advanced Falconry" makes me want to wrap into a ball and long for sleepy human embrace. Anyone who appreciates Andrew Bird or Mark Kozelek will love Mutual Benefit, as they are a warm new sound that blends both styles perfectly.
7. DARKSIDE – Psychic
This is the type of album that you reject upon the first one, two, or three listens. But eventually, it clicks. Darkside has an entirely new sound that is fresh and engrossing. It pulls you in once you accept it. In 2011, I rated Lotus Plaza's release as average. But two-plus years later, it is probably the album I have returned to the most, save maybe Real Estate. Those of us who keep track of music on a yearly basis always have an album or two like that. You know it's good, but you don't rate it as highly as you will 5 years from now. I have a sneaky feeling that Darkside will be that album where in 2019, I'm still listening to it and wondering why it wasn't number one.
8. Evenings – Yore
A friend whose music opinion I hold in highest regard nudged me towards Evenings. I'm really glad it happened because Yore is one hell of an album. Its style isn't necessarily new, but Evenings' execution is perfect for what it tries to be.
9. Phosphorescent – Muchacho
Similar to my points about Lotus Plaza in the Darkside review, Phosphorescent's 2010 release Here's To Taking It Easy is an album I'm still returning to today. Muchacho was a fine follow up. It has grown on me with each listen, and cements Matthew Houck's style of music as one of my current favorites. I wish there were more Aww-Shucks-Southern-Folkrock bands who produce as pleasurable works of art as Matt.
Honorable Mentions
You know, I struggled picking a 10th album, but because of lack of quality. There were just too many deserving releases that I couldn't list just one. So instead, here is an unorganized list of other albums that I genuinely enjoyed this year in some way or another.
Toro Y Moi – Anything In Return
The Besnard Lakes – Until In Excess, Imperceptible UFO
Mark Kozelek and Desertshore – Mark Kozelek and Desertshore
All Tiny Creatures – Dark Clock
Kurt Vile – Wakin' on a Pretty Daze
Foxygen – We Are the 21st Century Ambassadors of Peace & Magic
Bonobo – The North Borders
Young Man – Beyond Was All Around Me
My Bloddy Valentine – m b v
Boards of Canada – Tomorrow's Harvest
Iron & Wine – Ghost on Ghost
Julian Lynch – Lines
Holden – The Inheritors
Beacon – The Ways We Separate
Jim James – Regions of Light and Sound of God
Fuck Buttons – Slow Focus
Four Tet – Beautiful Rewind
Janelle Monáe – The Electric Lady
Nick Cave & The Bad Seeds – Push The Sky Away
Volcano Choir – Repave
The Fatty Acids – Boléro
Faux Fur – Faux Fur